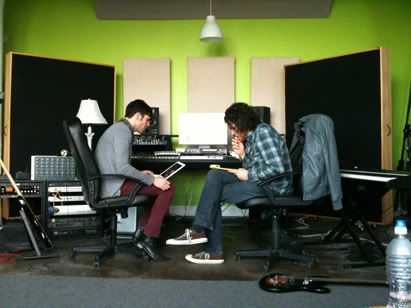 Hello Internet!
Last week was a big week for our new publishing division at Glassnote. Ryan Downing, from our band Jonas Sees In Color, came up to NYC for a little writing trip. And by little, I mean busy. The man wrote 7 songs in 5 days! He even recorded the vocals to most of the songs himself. We're really excited to start getting the demos to the songs from last week – don't be surprised if you hear them being sung by your favorite artist or on a TV near you!
Ryan wrote with a lot of great writers last week, from JP Rende (DRS/Downtown) to Robopop (Cherry Lane) to Adam Richman (best known as the guitarist/musical director for Jessie James). Shout outs to the other awesome writers from last week – Aaron Accetta, Mike Beck, The Stationary Set boys, Alex Seier and Johnny Marnell! Each and every song he wrote was different in its own way, but suffice it to say, Ryan is a lyrical machine. For this being his first writing trip, Ryan was really thrown in the deep end. He went everywhere from Manhattan, to Westchester, to Coney Island (and yes, we did get Nathan's hot dogs!). Along the way, we also had a chance to stop by BMI and see our friends Samantha Cox and Brandon Haas. They had some really good insight, and even helped us with getting a session on Friday, since our other one got cancelled.
Overall, last week was a very successful week for us. There will be a lot more of these trips to come – so stay tuned! On the writing front, the next stop for Ryan will be Virginia, but watch out because we're shooting for the moon.
Without wax,
Maureen
Check out Jonas Sees in Color by clicking here!