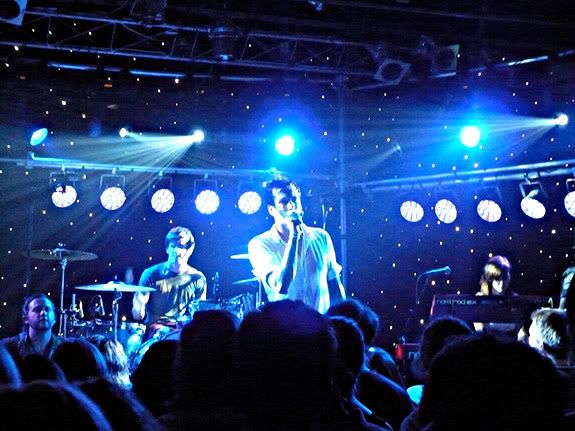 Greetings everyone! This past Friday I ventured down to Greensboro, NC, to spend some time with our favorite southern rockers, Jonas Sees In Color. The band wrapped up the recording of their album with producer Aaron Johnson (The Fray) at the end of April and I missed them so damn much that I had to jump on a plane and see their first homecoming show since.
Things were off to a rocky start for me personally, with flight delays, connections, and all the other headaches that go along with flying these days. Thankfully my flight was switched and I made it into Greensboro with an hour to spare. The lovely Amanda picked me up from the airport and took me over to the venue where I was happily bombarded with the kinds hugs and kisses that are only magnified by distance and time. It was so good to see everyone, but after that it was strictly business as the band loaded their gear onto the stage, sound checked, then headed to the artist "dressing room" to get their heads right for the show. Manager Danny Fonorow delivered a motivational pre-show speech, the kind that lets you know every show is a stadium show for this band. The room was filled to the walls with fans of all ages, who made evident they missed the band badly while they were recording in Denver, showering them with homemade gifts and baked goods.
As the band took the stage to the roars of the crowd the band started things off with an energy packed version of "I Own These Streets" which sounded as amazing live as it did on the new recordings. The crowd sung along to Ryan's every word, as the energy of the rest of the band propelled them through the hour long set. Owen's energy and on-stage guitar tricks brought cheers from the audience as the rhythm section collectively known as Mikey & John held down the low end. Lead guitarists John Chester and John Owens swapped licks as Meg Beth's key's added The new arrangements for standout favorites "Stand Tall", "Luck and Love", "Loose Threads", and "Avalanche" all went over extremely well, with the newer songs like "The Sky Is Falling" and "Water On The Rise" absolutely blowing fans away. In the middle of the set the band let me know exactly how they felt about my presence at the show, as Ryan pointed me out, asking the entire crowd to scream at me "Welcome To North Carolina!" to which they gladly complied.
Once the show was over I had the amazing fortune of meeting the band's many family members in attendance at the show. Parents, grandparents, brothers, sisters, aunts, uncles, all the way down told me how hard they had worked for the opportunity, and how proud they were that they had begun to achieve it. To see the support system that has been behind these kids and to see how much the dream means to so many people, to a whole community, was something so special that has stayed with me and pushes me to work as hard as I can for this group.
I watched as they spent an hour talking to fans, autographing t-shirts, and taking pictures. When it was all said and done I thought the band would celebrate a great homecoming show as fans invited them to party on the roof of the venue, which doubles as an after-hours club. The band would not hear of it though, as they spent the next 2 hours unloading their friend's lighting rig that they spent all day loading into the venue. I was astonished at the band's work ethic, instantly certain that their drive and motivation to succeed has no bounds, pushing me to match their efforts in every endeavor from there on.
The rest of the weekend was extremely special, spending down time with the band and hearing what was going on in their personal lives since we had last spent days like this together. Ryan, Danny, and I stayed up Friday night into Saturday morning watching an Anvil Bootleg I brought down, until 6 am when we left to get fresh Biscuitville. For those who don't know (like me), Biscuitville is a chain of fastfood breakfast restaurants in the south and it is amaaazzzziiinggggg. The next day for lunch we missed out on a Greek Festival that turned out to be a drive-thru Greek Festival, so instead we grabbed some North Carolina BBQ, while we debated the merits of chopped versus sliced pork. Just for the record, Danny's lone opinion in favor of sliced was correct. I had my first taste of Cheerwine, which despite its name, was really just a kind of Cherry soda that we do not have up north.
I got to learn a million new things about everyone, like how Ryan's nickname is "Golden Pipes" only used sarcastically half the time. I learned that Meghan Beth is famous for not finishing anything she ever orders, but that Danny will always help her out. I learned that Owens has an obsessive affinity for cleaning his ears, much like me, as we shared many a q-tip. I learned that Johnny has a scooter that he uses to get back and forth from Greensboro to his hometown about 20 minutes away, while John rides a bicycle to travel a similar distance. Mikey drove me back to the airport as we enjoyed his mixed cd of motown and soul gems, helping me to realize it wasn't rock all the time with the band, and that they are a very deep, eclectic bunch. Lastly, I met Meatball, manager Danny Fonorow's loving English bulldog who loves the spotlight just as much as the band. It was a trip I'll never forget, one which has helped me realize the way some dreams are born never to be delivered, swearing to myself that it would never be the case with this band. The future is coming and it is as bright as can be for this band, because they refuse to lose.